The Squad
Fundamentals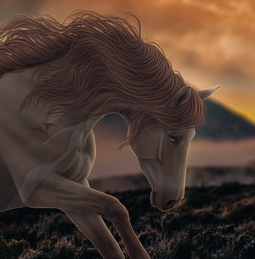 Scavenger, Pathfinder, the.
As much a desert rose as she is a thorn, Kira is a survivor above all else. Prickly and unlovely in the ways that a cactus might be, she's a dirty-faced explorer fashioned by the limited surroundings of a vast, unforgiving desert. Having spent the entirety of her life up until now eking out her rather meager existence in isolation, foraging for work and for food like a stray hound, she takes nothing wondrous in the world for granted.
Years of life on her own have made her overly trusting in her own instincts and painfully independent. A little too ready to lean upon her impulses and bravery as a crutch, she possesses a knack for finding trouble—and stubbornly remaining in it until she finds a solution.
"The stars are pulling on my hair again."
Kira
Oberon
Unknown
Unknown
Unknown
Unknown
Unknown
Unknown
Sana
Unknown
Unknown
Unknown
Unknown
Unknown
Unknown
Design by Silverfang

Appearance
Personality
History